"Star of The Sea" available for International Download!!!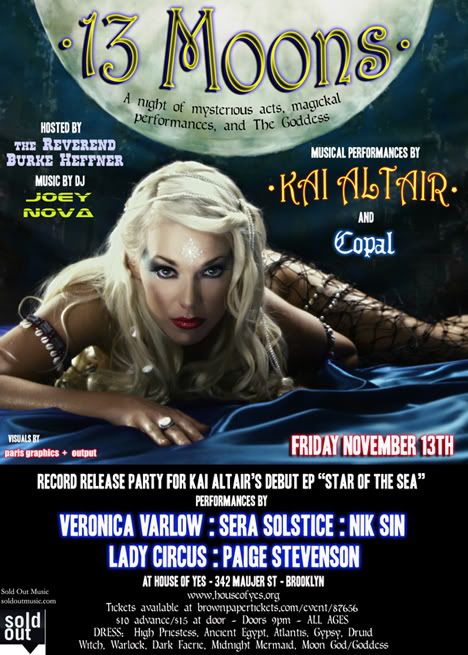 HAPPY HALLOWEEN!!! I am so happy to announce the release of
Star of The Sea
today. After a year of dreaming, creation and hard work, it is finally here. You will be able to find my debut EP at iTunes, Amazon, Rhapsody, LaLa, Napster, and a few other locations if you poke around the web.
Tonight I will celebrating with the spirits. As the Pleiades rise over head I will thank my ancestors and the Great Shining Ones of antiquity for bringing me to this lifetime, and this music. I am living my dreams everyday as I follow my heart path, and I am blessed to share it with all of you.
I want to celebrate with YOU in 2 weeks on Friday the 13th at The House of Yes with all of my friends and family.
As you can see by the flyer, this is going to be quite the night. I will be joined onstage by some of the most magickal and alluring sirens & magicians in NYC, and we have lots of treats in store for all of you.
Enjoy Star of The Sea tonight, and dance the Spirit Dance.

From my heart to yours,
Kai